The best tree service professionals in Ajax, Ontario
At Ajax Tree Removal Inc., we offer a diverse range of professional tree care services that cover your landscaping needs. With our professional approach and the best tools in the industry, we help the trees on your property thrive and flourish. With consistent maintenance and upkeep, your lot benefits both aesthetically and functionally.
Residential and Commercial Tree Removal Services
Although most Ajax residents do their best to conserve their tree resources, there are scenarios when tree removal is a necessity. You may find yourself calling tree removal companies for these reasons:
Non-native tree specie

s: Non-native tree species will not thrive in Ajax. Neither the climate nor the soil sustains non-native trees, which causes abnormal growth and dull, lifeless leaves. Since these trees take nutrients that benefit native Ajax trees, they may require removal

The tree has a non-treatable disease

: Some Ajax trees are susceptible to illnesses and need immediate removal. Since these diseases affect surrounding trees, removal prevents them from spreading

It poses a safety risk

: When an Ajax tree grows too large, its branches cannot withstand weather extremes and storms. If a branch falls on a family member or customer, it can lead to severe health and legal consequences

Property destruction

: Falling branches can damage your cars and roof, but there are other ways that a tree destroys a property. Roots that grow vertically may damage the foundation of your home or sidewalk. They can also cause others to trip and fall, increasing your liability

The tree is no longer alive:

A dead tree no longer serves a purpose on home or business properties. It acts critters like a magnet and makes your yard look scruffy and rundown. Dead tree removal increases the value of your Ajax property and improves its appearance
Although tree removal isn't always the ideal solution, our experts are ready to help when it's your only option.
Call (647) 371-1741 For Expert Advice
We Are Ready To Serve You
Ethical Trimming and Pruning
You may notice that we included the word "ethical" in this tree service, and there's a reason why. Some tree care services may offer topping services, which shorten the height of your tree. We never perform this pruning practice, which directly impacts the health of your tree in exchange for a more convenient height.
Tree topping is an extreme form of pruning that involves the removal of the top part of your tree, preventing it from growing correctly. At [our company], we have a deep appreciation and respect for Ajax trees. Our pruning methods ensure that yours flourish and stay healthy, not suffer from harmful and unnatural practices.
Our tree service options include trimming, pruning, and consistent maintenance that keeps them happy and alive. When trees receive proper care and attention, they grow correctly and don't cause problems for Ajax property owners later on.
Tree Planting and General Tree Service
An exciting aspect of our tree service includes planting and maintenance. Since we're passionate about tree protection and conservation, we make sure that your Ajax trees have all the factors they need to grow properly. Every Ajax tree service we offer stems from the deep appreciation we have for trees and their incredible abilities.
With our extensive knowledge of trees native to Ajax, we help you choose the right type to plant on your commercial or residential property. Our Ajax tree services involve a comprehensive approach that involves checking health levels, nurturing, and growing new tree species on your property.
Our preservation and tree care methods are the result of extensive experience. We offer Ajax residents comprehensive tree services that are suitable for all property types. When you work with [our company], your trees are always in the hands of a professional crew.
Professional Stump Removal Services
There's not much to love about a tree stump, especially one that gets in the way of landscaping or construction projects. A tree stump is not only a nuisance; it attracts pests and is susceptible to rot and decay. Stump removal helps you protect your Ajax property from vermin and makes residential and commercial lots look clean and neat.
Our Ajax tree services include removing stumps with precision and ease. Proper tree care doesn't just involve the visible part of the tree, but also its roots.
Tree stumps are a tripping hazard, and commercial property owners may face lawsuits if a patron trips and falls on their property. We use the latest technology to approach stump removal on your property, with quick and efficient service that does not leave a big mess.
Call (647) 371-1741 For Expert Advice
We Are Ready To Serve You
Free, No-Obligation Quote
Excellent Customer Service
Experienced Tree Contractors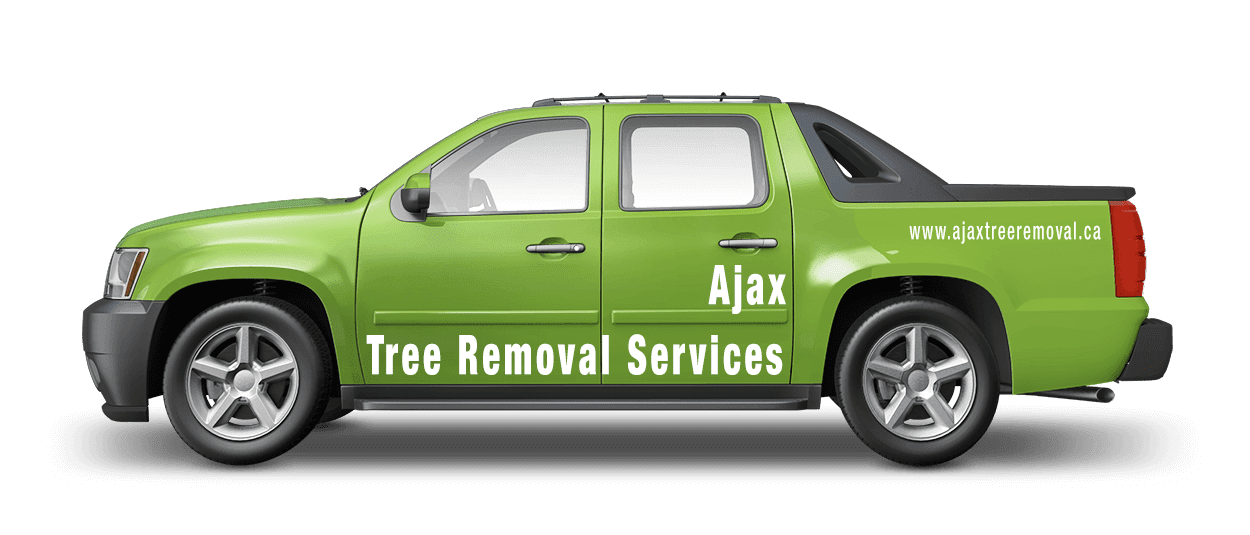 FAQs
If you're looking at Ajax from Google Earth or an airplane window, one thing that immediately stands out is the expanse of emerald-green surrounding and threads its streets. Ajax loves its trees, and the city provides plenty of online resources and tree services that educate residents on preservation and upkeep.
Although most trees manage perfectly well without human intervention, there are always exceptions. From mold and disease to potential liability issues, trees on residential and commercial properties need consistent monitoring. In some cases, the right tree care and quick action do the trick. In others, you may need to opt for complete tree removal. Our customers have many questions before they begin, especially if it's the first time they opt for professional tree care services.
How often do trees need pruning?
The more effort that you place in your tree maintenance approach, the better your results will be. Improper pruning isn't healthy for a tree, so you always need a professional tree service in Ajax for the best results. Depending on the age and size of the tree, there are different pruning times.
Small or young trees in Ajax require more care and maintenance to establish their roots. Aim for a trimming service every 2 – 3 years if your tree is smaller or younger. A large tree does not need as much pruning. You only need to call for service every 3 – 5 years.
How do I know if I need tree removal?
If your tree does not look healthy, is dead or dying, or causing health and safety hazards, it's best to call a professional Ajax tree service company. An arborist with experience in tree care services identifies health and safety risks and determines whether you need tree care or removal.
Our tree removal service gives you peace of mind, with expert crews with the licensing and insurance requirements necessary to get the job done.
Does your company provide seasonal maintenance services?
Seasonal tree care helps your lawn or garden grow properly and keeps your tree healthy. Our company provides seasonal maintenance services for Ajax residents and property owners. We ensure your peace of mind and offer comprehensive tree care services that work for all budgets.
Whether you need monthly, annual, or emergency services, we are by your side.
How much does tree maintenance cost?
Tree services pricing varies depending on the type of maintenance you need. Tree care involves different factors such as checking the soil, tree location, and how much needs pruning. General Ajax tree services don't cost more than a few hundred CAD. More extensive and complicated tree services like the removal of a large tree cost more.
For an accurate estimate of your costs, talk to your Ajax tree service provider to break down the services you expect. Always compare quotes for tree care, but don't opt for the cheapest services without doing your research.
Do you remove the stump during tree removal?
Tree services involving complete removal may not include the stump unless you specifically request it. Removing a tree stump requires special equipment and a different approach.
Ajax Tree Removal
Office location: Ajax, L1T2E6, Ontario, Canada
Email: info@ajaxtreeremoval.ca
Phone: (647) 371-1741
Office Hours:
Monday: 8:00AM – 19:00PM
Tuesday: 8:00AM – 19:00PM
Wednesday: 8:00AM – 19:00PM
Thursday: 8:00AM – 19:00PM
Friday: 8:00AM – 19:00PM
Saturday: 10:00AM – 18:00PM
Sunday: 10:00AM – 18:00PM