Your local tree removal company
Tree Removal Ajax
We offer an efficient, safe, and professional tree cutter service for Ajax residents in Durham region. We thoroughly examine your tree health and offer tree service and bark tree service solutions depending on your property type and scope of work. With us, you'll always get expert advice from specialists with years of experience performing multiple tree removal services in Ajax.
We have more than 25 years of experience
It's hard to imagine Canada without trees. From majestic cedars to breathtaking oaks, trees improve the quality of urban environments and are a source of oxygen for our cities. In Ajax, Ontario most people appreciate the importance of this natural resource and take part in tree care initiatives to help it flourish.
Despite their value, your trees may end up doing more harm than good. Most residential and commercial property owners in Ajax have at least one tree on their lot and maintain it regularly with professional pruning services and tree care. Yet, in some cases, the only way to avoid harm and keep your family or patrons safe is to resort to a tree cutting service.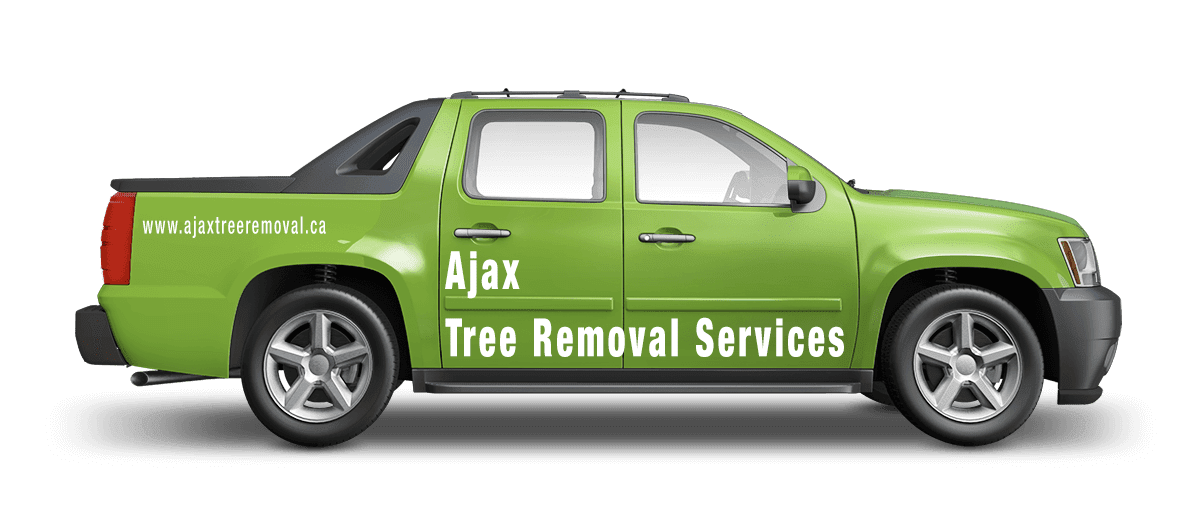 Preventing Safety Hazards
Tree services in Ajax protect both people and their properties. Without consistent maintenance, trees become safety hazards and can cause harm or damage. Overgrown branches become heavier with time, and it takes one storm for them to break and land on structures or people. Even with consistent tree care, there are cases where the placement of a tree poses a fire risk, like if it grows beneath a power line.
One of the main reasons why Ajax residents need tree services is when a tree catches a contagious fungus or disease. Even with pruning and tree care, some cannot recover and need removal before affecting neighboring trees. Dead trees should not stay on a lot for too long since they attract vermin that spread throughout the yard.
Sick or dead trees decrease the value of a residential and commercial property. Their unsightly appearance undermines the other decorative elements and makes your Ajax property seem shabby. Our professional Ajax tree service helps you identify risks before they become hazards, and we remove any risky trees before it is too late.
We Are Ready To Serve You
We Are Ready To Serve You
Professional Tree Removal Teams
The best people to take on a job are those who are passionate about it. Tree removal is our specialty, and we know the ins-and-outs of caring for every Ajax tree type.
Our crews are fully-insured: Each of our Ajax tree care members has the proper insurance requirements in case of an emergency. Although we take every precaution possible with our tree cut service, we also prepare for the worst
Full knowledge of permit requirements: Our tree partners have in-depth knowledge of local laws. They make sure that you have a legitimate arborist report before attempting tree cutting on your property.
Advanced safety techniques and equipment: The safety of our team members is our top priority. During a tree service job, each member of our company takes extensive safety measures and uses the best gear to protect themselves and your property
Restore your property to how it was: After a removal job on your company or a home lot, debris, leaves, and branches litter your yard. Our crews always clean up after performing tree services, ensuring that your yard is safe and clear of potential safety hazards
Our teams have the knowledge, training, and experience for any tree care and removal service jobs. No matter the size and task, we ensure clean removal process for all residential and commercial properties in Ajax.

Tree Service Rooted in Trust
Our customers expect trustworthy and honest arborists, and we pride ourselves in consistently exceeding their expectations with our Ajax tree service. Our company's crews never compromise on quality tree care service, and they value the trust our Ajax clients place in us. It is not just about providing an exceptional residential and commercial tree service; it is about quality work and establishing great relationships with people, too.
Our tree services help commercial and residential property owners in Ajax maintain their yards and gardens in an aesthetically-pleasing and safe manner. We also provide preventative tree care services to keep your trees happy, healthy, and thriving.
Expert Tree Services
Tree care in Ajax involves a comprehensive approach to the maintenance and upkeep of your yard. In addition to removal of trees, we offer options such as:
Professional Ajax tree stump removal: If you have an unsightly stump in your yard, our team is by your side. We safely and quickly remove the stump without disturbing the rest of your property. Our stump removal tree services ensure that you do not have to settle for useless space in your yard
Pruning and upkeep services: Our crews perform ethical pruning and upkeep services that keep every tree on your property healthy. A consistent pruning service reduces the risk of overgrown branches and eliminates safety hazards near home or commercial lots
Storm damage Ajax tree service: After a major storm, many trees sustain permanent damage and need professional tree services by an expert crew. Our teams look for damage that may not be immediately apparent and help you determine whether you need general tree care or total removal
We provide services all cross Durham region, find out more about our Ajax Tree Removal, Pickering Tree Removal, Oshawa Tree Removal, or Whitby Tree Removal services.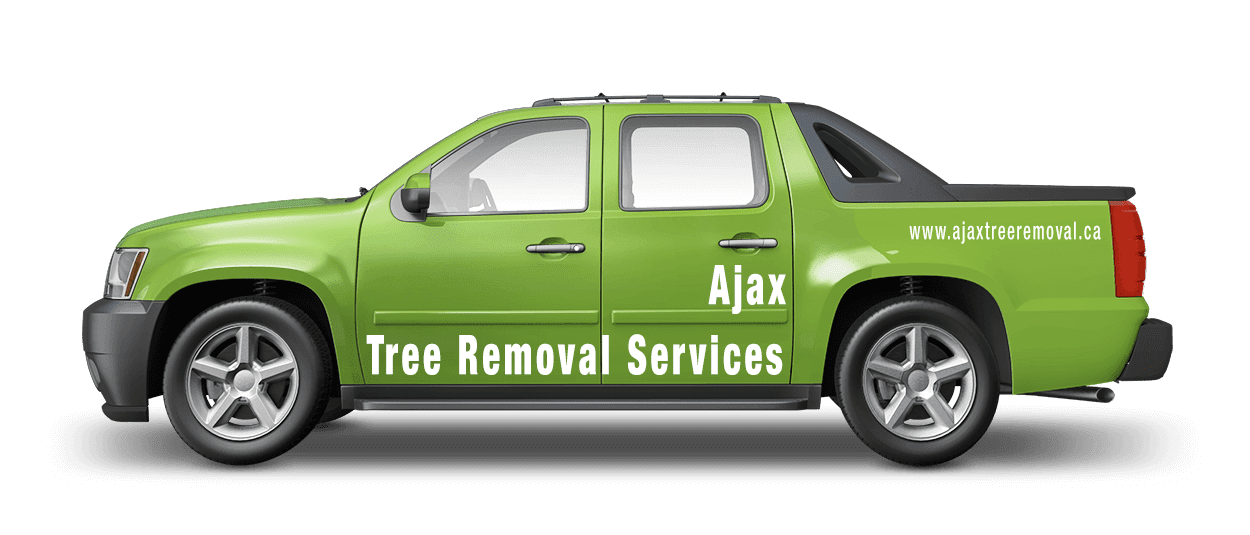 Call (647) 371-1741 For Expert Advice
Excellent Customer Service
Experienced Tree Contractors
Free, No-Obligation Quote
FAQ
Take a look at these recurring questions we receive from customers regarding our tree services. Since every tree care case is different, we encourage you to give us a call to go over your issue and match you with the tree service that suits your needs.
Do I need a permit to remove a tree?
Permits depend on the location of the tree and whether it is alive or dead. While you need to get a permit for removing live trees on a company or home property, dead trees can be removed without any paperwork. Our crews are fully aware of all applicable laws in Ajax and perform the necessary steps to carry out legally-compliant tree care services.
Can I remove a living tree from my Ajax property?
There are a handful of valid reasons to remove a living tree. While it is legal to do so, consider why you want to remove it before applying for a permit. Live trees enjoy protections from the city, and location alone may not be enough to remove your tree. If it presents a safety hazard, however, you are well within your right to remove the tree from your property.
Can I leave a dead tree on my property?
We strongly advise against leaving a dead tree on your home or company lot. Dead trees are not just an eyesore; they get in the way of new tree growth and attract insects, mites, and critters. You will want tree services before these pests enter your home. The same approach applies to a tree stump in your yard. While some people use their creativity to make benches and chairs out of them, if you want complete stump removal, our crews make sure to get the job done.
Do tree services cost the same in Ajax?
Depending on the height and width of the tree, the price for our tree care services vary. For example, standard or seasonal tree services differs from complete removal. It's not the size of the tree that is the issue, but its location on your property. For an accurate estimate, one of our arborists will inspect your tree care needs and provide you with a competitive quote.
How much time do you need for tree services?
Our services don't take more than a few hours in Ajax unless the location of the tree is particularly daunting. It may take more time to remove larger trees that are close to a home or company building. To get a precise time frame for your Ajax tree service needs, give our tree care professionals a call.
Ajax Tree Removal
Office location: Ajax, L1T2E6, Ontario, Canada
Email: info@ajaxtreeremoval.ca
Phone: (647) 371-1741
Office Hours:
Monday: 8:00AM – 19:00PM
Tuesday: 8:00AM – 19:00PM
Wednesday: 8:00AM – 19:00PM
Thursday: 8:00AM – 19:00PM
Friday: 8:00AM – 19:00PM
Saturday: 10:00AM – 18:00PM
Sunday: 10:00AM – 18:00PM